Best Vape Temperature For Dry Herbs, Wax, and Oil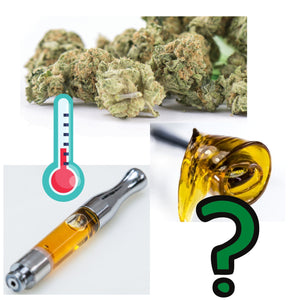 The setting of your temperature is paramount when it comes to the function of your vaporizer, and the type of session you are going to have. A particular heat setting will determine whether you will have a strong vapor cloud production, or a light vapor wisp. All vaporizers are designed to heat up some sort of chamber, also known as coils, cartridges, and atomizers.
Care must be taken with certain coils, as they can burn out if the temperature is too high for an extended period of time. Whether you are vaping wax, dry herbs, oil concentrates, or e-liquid, your temperature preference will be different for each type of material. It is important to remember that not all of these will produce the same volume of vapor, as some will also taste and feel different.
This also depends on the type of vape you have, the quality of your materials, and the temperature setting. We at Darkside Vapes understand the importance of temperature settings, and how crucial it is to dial in the right one for your particular session. Here we will be exploring the different aspects of finding and maintaining the perfect temperature setting for your type of vape.
What is the Best Vape Temperature for Dry Herbs?
Dry herb vapes like the E-CLIPSE and Titan 2 are the most popular vapes on the market, and always come with some sort of temperature control. From just a few settings to full precision temperature control by a single degree, the best temperature setting will depend on the specific herbs you use and how well they are ground up. How tightly packed in your chamber happens to be will also impact your vape session, so it is highly advisable to lightly pack it in to maintain the proper airflow for temperature regulation.
The quality of the dry herbs themselves will also play a role in the quality of your vape session, whether you have fresh herbs vs very dry herbs, etc. If you only have a few settings to choose from you will be accustomed to what is best very fast. Otherwise, start at the lowest heat setting possible and slowly work your way up to dial in your preferred temperature.
The higher your heat setting in a dry herb vaporizer, the more vapor you will produce. It is also important to note that compared to other vaping modalities, dry herb vapes will produce the lightest form of vapor, unlike those you would typically get with e-liquid vapes for example. Dry herb vapes are perfect for beginners and those transitioning into the world of vaporization.
What is the Best Vape Temperature for Wax?
Just like any other vape on the market, what it will ultimately boil down to is a matter of personal preference. Some like to rip their vapes super-hot for massive hits, while others like a slow simmer to really soak in and appreciate the moment. The main difference is whether you prefer heavy sessions, light sessions, or sessions where you can take one big hit and just call it a night.
It all depends on the user, though the type of coil used will also have a direct impact on your experience, since some take longer than others to get hot. A ceramic dish vs a quartz rod coil is a great example of this, where ceramic retains heat the longest which makes for great extended sessions, quartz heats up the fastest and can provide those instant draw hits without keeping your material hot for very long, plus it is the more affordable option between the two.
Often, these features are not exactly measured in temperature per se, but more so measured in the volts or watts being used, as more watts translates to more power going to coil from the battery, which in turn makes your material vape hotter. The AGO Vaporizer is a perfect example of this as a combustion vaporizer.
What is the Best Vape Temperature for Oil?
Just like a wax vape, your preferred temperature setting will depend entirely upon your own unique individual tastes. Some people enjoy the massive clouds that higher temperatures can provide, while others are better suited for moderate to low vapor production.
This is especially true for those coming in from the smoking world, as they transition into vaping, many might prefer to ease their way in with a lighter setting, while others want to start with an experience similar to smoking without all the negative consequences associated with it. Oil vapes are notorious for being some of the most versatile units on the market, as they can also serve to vaporize e-liquids as well.
While some vapes only specialize in one vaping modality or another, combination 3 in 1 vapes are perfect for the vape connoisseur who can appreciate every type of vaping modality. Experienced vape users are the majority of customers for vapes like this and are knowledgeable in their preferred heat settings for vaporizing oil concentrates. As mentioned before, the best temperature setting will be the one that suits your style the best.
What is the Best Vape Temperature for a Box Mod?
The ideal temperature for your box mod will be highly dependent upon the atomizer that is attached to the unit. The temperature/power output is usually adjusted up and down in watts, and this can be variable depending on what is in your box mod. The higher the wattage setting, the more power goes to the atomizer. Given the nature of dry herbs for instance, their atomizers need far less wattage than oil or wax vapes.
Vapes that can accommodate any manner of materials that are put into them are known as 3 in 1 vapes. E-liquid atomizers are the most popular with box mods and can also take the most power for massive cloud production. No other style of vape can compare with the types of thick vapors that a box mod can produce, making these perfect for smokers who wish to transition into the world of vaping.
Box mods that are built for e-liquids can also vape oil concentrates, making them truly versatile. The ergonomic handheld designs also make them ideal for most people. When searching for the right temperature to vape when using a box mod, it is always recommended to start at the lowest setting and work your way up.
How to Choose the Right Vape Temperature?
To reiterate some of the points from above, you will want to simply keep in mind that the ideal temperature will always be a subjective preference that is highly dependent on what your goals are for a session. The material being used and the type of vape or atomizer attached will also play a crucial role in the outcome of your vape session, so take these into account when adjusting for the ideal temperature.
Typically, the higher the temperature, the thicker and hotter the vapor will be, making it much easier to see and feel. In time, you will find the best temperature with experience, and come to a preference depending on these factors. Different materials require different settings and having a 3 in 1 vape is recommended for advanced users, though feel free to experiment and have a go with one if you are so inclined.
If you prefer to stick with dry herbs, acquire one that specializes in that modality. This will cut the learning curve and allow you to find your ideal settings much more quickly and efficiently. Whether you want a quick session or a long, drawn out session, it is all a matter of personal preference in the end.
High Vape Temperature vs Low Vape Temperature
We at Darkside Vapes feel that by now you should have a much broader understanding about the differences between vaporizers and what comprises an ideal vape temperature. To clarify these differences, we will point out a handful of these variations to highlight them.
No matter what it is that you are vaping, higher temperatures will always give you a thicker cloud of vapor than a lower temperature. Vaping at a higher temperature also makes the vapor much more visible, whereas a low temperature will produce a light and wispy, almost nonexistent puff of vapor. Higher temperatures will inevitably create discomfort when putting the unit up to your lips. Using an extension or a mouthpiece cover will mitigate this problem, however.
Lower temperatures will allow your material to last longer, which will not only extend the life of your material, but also the coils you happen to be using. Lastly, it is safe to say that higher temperatures must be used with caution if you are to balance having good vapor production and maintaining the longevity of your unit.
Written By: Anthony E.
Leave a comment
Comments will be approved before showing up.