Titan 2 Dry Herb Vaporizer Review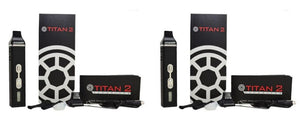 Regardless of experience, there is a great deal of dry herb vaporizers out there that cater to an ever-increasing range of customers. Those looking to upgrade their smoking experience will find a TON of value in dry herb vaporizers where the user can have unparalleled control over every detail of their smoking experience from variable temperature to bluetooth controls. Needless to say, finding the 'perfect' dry herb vaporizer can be a daunting process which often leaves newer users in the dark. To bridge the gap for both experienced users and newbies alike the Titan 2 dry herb vaporizer has been created. In comparison to the Titan 1, the Titan 2 offers more advanced features at an equally affordable price point. For one, the Titan 2 utilizes the same convection-style heating system as the Titan 1, but with full temperature control and a display screen. In addition,Titan 2 users can enjoy the same sleek design and high portability associated with the Titan 1. This is a dry herb vaporizer you can take anywhere and will not have to recharge constantly, which is a huge plus in today's fast paced world where we are constantly on the go. Let's take an in-depth look at what you can expect from the Titan 2 dry herb vaporizer.
The Titan 2 Dry Herb Vaporizer Kit
The Titan 2's kit has everything you need to start vaping your favorite dry herbs right out of the box. In addition to the Titan 2 dry herb vape pen itself, the kit includes a cleaning brush, micro USB charger, 5x metal screen filters, 3x silicone mouth protectors, 2x extended mouth caps, and mouthpiece. Fortunately, this kit has a generous amount of spare parts in case you were to lose a piece or two.
Titan 2 Vaporizer Specifications
The Titan 2 provides the perfect balance between technology and simplicity. Although this vaporizer does not feature bluetooth controls, which is quickly becoming the standard for top tier vaporizers, it delivers in other areas— variable temperature control, display screen, and convection heating with ZERO combustion.
Temperatures can be changed by a single degree between 200°F and 428°F giving users complete control over their vaping experience. No need to worry about accidentally burning yourself either since the Titan 2's heating elements are covered and not openly exposed. An often voiced complaint is the lengthy heat up times associated with dry herb vaporizers. While the Titan 2 is not lighting fast by today's standards it does reach temperatures within 45-90 seconds depending on the temperature setting.
Battery-wise the Titan 2 has more than enough battery power to meet your vaping needs. This units features a single 2200 mAh battery with an output between 3.7-4.2v and an ohm resistance of 1.2. Charging times are a bit longer with the Titan 2 at 3-5 hours which is why overnight charging is reccomended.
Last but not least, the Titan 2 has a display screen which shows temperatures and battery life which is all one needs to have confidence with their setup. Overall, the Titan 2 includes a lot of features at a super competitive price point. A vaporizer such as this ticks the boxes for both experienced users and beginners.
Notable Features Of The Titan 2 Vape
The star of the show here is the Titan 2's ceramic-based convection heating system which is superior to combustion systems in general. For one, convection heating is cleaner in comparison to combustion. In combustion heating systems heat is directly applied to the herb while convection systems utilize indirect heat via vapor to apply a more even amount of heat to your dry herbs allowing for a smooth vaping experience and less risk of your product being burnt. Arguably, the fact that the Titan 2 gives users access to convection heating at an affordable price point is one of the BEST things about this vaporizer.
Another big positive with the Titan 2 is its accessibility for both newer users and seasoned veterans. The setup process with this vaporizer is incredibly easy and accessing its temperature settings is also a cake walk. Because this unit features a display screen you can easily see the temperature you are vaping at and track battery life. In comparison, there are a lot of dry herb vapes out there that have preset temperature settings with unknown degrees due to a lack of a display screen leaving the user in the dark as to the exact specifications in which they are vaping.
How does the Titan 2 compare to other dry herb vaporizers?
By far the biggest plus with the Titan 2 in comparison to other vaporizers in the same category is the price point —right around $50. Thus, users can enjoy the benefits of a convection heating system with full temperature control without breaking the bank.Indeed, there are a great deal of convection-based vapes but they can be quite expensive depending on the technology and components used. For example, vaporizers like the DaVinci MIQRO or E-Clipse can be $100 or more making your purchase that much more daunting.  In general, this is a fantastic dry herb vaporizer at an incredibly good price point. Not to mention the fact that you can get this vaporizerdiscounted a lot of the time.
How do I use the Titan 2 Dry Herb Vaporizer?
So, your Titan 2 vaporizer has arrived in the mail and it is out of the box. How does one get started? Firstly, grip the mouthpiece with the front of the vape pen facing you while pulling sideways and up at the same time. Once the mouthpiece is off you will want to pack the heating chamber four fifths of the way with your chosen dry herb. Next, snap the mouthpiece back on and press the power button rapidly five times to turn the unit on (also to turn it off).
You can set your desired temperature using the arrow buttons and display screen. Once you have found your desired temperature simply hold down the power button for 3-4 seconds — immediately after the screen's backlight will light up showing your set temperature. Next, wait approximately 45-90 seconds for the unit to reach the correct temperature.
Now that everything is up to temperature you are ready to start vaping. Begin by lightly and slowly inhaling at a consistent rate. You can produce more vapor by slowly inhaling versus inhaling with maximum power. After seven minutes of inactivity the vaporizer will power itself off to save energy and protect components.
Keeping the Titan 2 Vaporizer Clean
You should take care of the Titan 2 like any other type of dry herb vaporizer. At the end of the smoke session it is advised to empty out the herb chamber by turning the unit over and shaking out any burnt herb. Over time the mouthpiece and metal filter will begin to accrue residue. To clean these components use the cleaning brush provided in the Titan 2 kit. If you are experiencing a persistent bit of dirt then a little ISO alcohol or hot water should do the trick. For those using waxes and oils the mileage of your components may vary in comparison to standard dry herb vaporization and additional cleaning may be needed.
Charging the Titan 2 Vaporizer
The Titan 2 utilizes a standard 2200 mAh battery that requires the same level of care as other batteries out there. Before using the Titan 2 it is recommended to fully charge the battery after it has been fully drained. This guarantees a greater amount of longevity for your battery's life to avoid having to buy a replacement. As we mentioned above, the charging time for the Titan 2 takes between 3-5 hours.
Final Words On The Titan 2 Dry Herb Vaporizer
The Titan 2 dry herb vaporizer is an excellent choice for both beginners and experienced users alike due to its affordable price point, solid technology, and quality components. This vaporizer is also highly portable and sleek in design making it ideal for a day out. We cannot recommend this vaporizer enough. Check out the Titan 2 and other awesome dry herb vaporizers at darksidevapes.com.
Leave a comment
Comments will be approved before showing up.